Ovanlee, a renowned tattoo artist from Seoul, South Korea, began her journey into the world of tattoo art in 2018. Quickly gaining international acclaim, her work is deeply inspired by the charming essence of cottagecore flowers. Her artistry weaves together the delicate beauty of roses, lavenders, daisies, peonies, forget-me-nots, and snapdragons, creating a tapestry that captures the heart of nature.
In Ovanlee's creations, you'll find flowers and a whole ecosystem of natural wonders. Her tattoos often feature fluttering butterflies, wild weeds, and quaint little birds, each intricately designed to celebrate the wilderness. Adding to this are adorable, tiny creatures that seem to have leaped out of a Ghibli movie, reflecting her deep admiration for the famed studio's work.
Ovanlee's distinctive style is marked by its color pencil-like texture and a vibrant palette that breathes life into her designs. Each tattoo tells a story, rich with elements from forests, different seasons, and a host of other natural motifs.
Express your unique passions with a tattoo that's as personal as it is colorful. Whether it's a beloved food, a cherished flower, or anything that brings you joy, these tiny tattoos are a charming way to reflect your tastes and love."
Her work is more than ink on the skin; it's a portal to a whimsical, colorful world where nature's smallest wonders are given a stage. If you're captivated by her stunning, tiny floral designs and the stories they tell, sharing her work is a wonderful way to celebrate her artistry. Dive into the enchanting world of Ovanlee's tattoos, where nature's beauty meets the magic of storytelling.
#1
#2
#3
#4
#5
#6
#7
#8
#9
#10
#11
#12
#13
#14
#15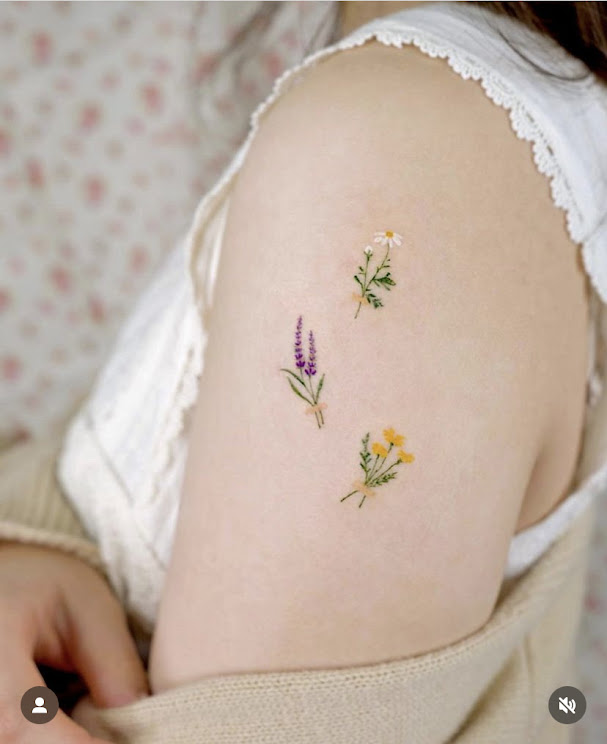 #16